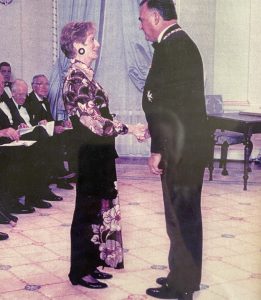 "I believe each child is born with possibilities and promise. Many of these possibilities never come to fruition because of the circumstances in which children find themselves. I want to do what I can to ensure that every child has a chance at life." – Edith Lando
For almost 20 years, the generous support and leadership of the Edith Lando Charitable Foundation has helped UBC promote and advance social-emotional learning in children and young people. Innovations have included research and graduate training, summer camps and inner-city programs, teacher training, and free, inclusive online learning tools and resources, such as those offered by the Edith Lando Virtual Learning Centre.
Edith's early years
Edith Lando (née Mitchell) was born in Winnipeg, Manitoba on September 6, 1917, to immigrant parents from Eastern Europe. The family moved briefly to Europe in 1927, so that Edith's father could give his children the opportunity to earn the education he never had. Following the stock market crash in 1929, the family relocated to Los Angeles, California. Edith completed high school and, in 1937, married a young Canadian lawyer, Esmond Lando. The couple moved to Vancouver, British Columbia, and raised four children.
A lifetime of service to children and communities
Edith was soon involved in variety of community activities in Vancouver, working actively for Jewish causes and the State of Israel, as well as with mental health and parent-teacher associations. She generously donated to the Luis Brier Home and Hospital and set up a scholarship for gifted young musicians.
Children were always Edith's primary concern. She played a key role in Vancouver's Children's Aid Society, served as the first president of the Greater Vancouver Child Abuse Prevention Society and chaired a workshop on child abuse and neglect for the World Federation of Mental Health. She was deeply committed to the work of SOS Children's Villages and served as a board member of the Romanian Orphans Support Group. She was a strong supporter of Cherish Our Children International, an organization founded by her youngest daughter, Juli Hall.
Edith made notable gifts to many other causes and people she cared for and believed in, often privately.
In recognition of her remarkable life's work, she was appointed to the Order of Canada in 1994.
A lasting legacy: the Edith Lando Charitable Foundation
A true philanthropist and visionary, Edith launched the Edith Lando Charitable Foundation, dedicated to fostering children's self-esteem, in 1974, and ran it on her own until her death on November 17, 2003.
Today, her children, Barry Lando, Roberta Beiser, Barbara Schloss and Juli Hall, continue her work as the foundation's trustees. They search for new, effective ways to give young people in all walks of life a more positive self-image, and also aid services supporting immigrants to BC.